Nine in court over alleged Aberdeen Airport protest
The appearance relates to an incident at the airport in March this year.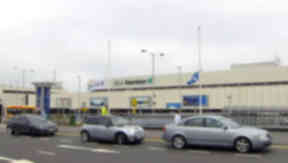 Nine people have appeared in court after protesters allegedly stormed a Scottish airport forcing it to close down.
Daniel Glass, 25, Jonathon Agnew, 22, both of Glasgow, Mark Andrews, 25, of Edinburgh, James Kerr, 34, of Paisley and William Boggia, 43, of Ballater, are alleged to have destroyed property at Aberdeen Airport on March 3.
It is claimed the men also breached the peace and acted in a disorderly manner by cutting the security fence, climbing on to the terminal roof and securing themselves in fencing on a taxi-way forcing the airport to close.
Katherine McKay, 20, of Shipley, Emilia Kawowska, 19, Matilda Gifford, 24, Josephine Hanson, 25, all from Glasgow, all face the same charges.
Mr Agnew and Ms Hanson are further accused of destroying roof panels at the airport on the same date. They are all claimed to have put the public into a state of fear and alarm when the alleged offence happened.
The five men and four women denied the charges when they appeared at Aberdeen Sheriff Court on Wednesday. They will all appear at the same court on trial next year.