Scots brewery release 'world's strongest beer'
The controversial Aberdeenshire-based BrewDog have released a 32% beer.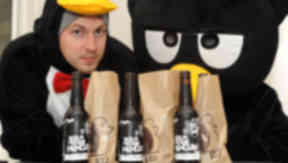 A controversial Scottish brewery has set a new record with the release of the world's strongest beer.
Fraserburgh-based BrewDog have released the 32% Tactical Nuclear Penguin, which they claim is higher than the German beer brand Schorschbraer (31%)
The announcement comes on the same day that Scottish Government plans to introduce a minimum price for alcohol look set to be blocked by opposition parties.
BrewDog's MD and co-founder James Watt said: "We have said all along that the cause of the nation's binge drinking culture is cut price alcohol – yet we have been made a scapegoat.
"Our premium craft beers are priced responsibly with very limited distribution whereas people can purchase 24 cans of lager for £7 in the UK. The fact that the government has dismissed this proposal is ludicrous."
Only 500 bottles of the beer will be produced with one 330ml bottle set to cost £30.
The firm now plan to submit Tactical Nuclear Penguin, which was verified at Herriot Watt University in Edinburgh at 32%, to the Guinness Book of World Records.
BrewDog have been making headlines since the firm started up in 2007.
Earlier in the month the firm's Tokyo* brand, previously the UK's strongest beer, was banned from UK stores by alcohol watchdogs Portman Group because of a message carried on the bottle.
The message read: "Everything in moderation, including moderation itself. What logically follows is that you must, from time, have excess."
The company claim they have been made scapegoats by such regulatory bodies who, in BrewDog's words use them to "compensate for their own ineffectiveness."
The beer takes its unusual name from arctic-like conditions it was exposed to during production.
The beer was stored at -20 degrees for three weeks to get it to 32%.
Meanwhile, Alcohol Scotland have called the product a "cynical marketing ploy".
Thursday was a day of double-celebration for the firm after its plans for the new £25million headquarters at Potterton, near Aberdeen were approved by Aberdeenshire Council.
The development had been recommended for refusal by officers because the site lies on green belt land.
However, the authority deemed the proposal worthy of departure from the green belt.