Heroin on NHS proposals shelved
City councillors in Aberdeen want more detail before they will approve a scheme that would see heroin on prescription.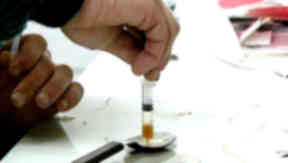 Proposals that could see drug addicts in Aberdeen being the first in Scotland to get heroin on the NHS have been put on hold after city councillors demanded more detail.
The authority's Social Work Convenor, Jim Kiddie, announced the plans last month, claiming similar trials carried out in England and parts of Europe have been very successful.
 
It would mean Aberdeen's three thousand heroin addicts offered a pure version of the drug by doctors rather than being treated with methadone.
 
Councillor on the Social Work Committee had been asked to back a motion that would see the Scottish Government being lobbied to launch a pilot in Aberdeen.
 
But in a vote, they rejected the idea, saying they had not been given enough detail to justify it.
 
Labour councillors also argued they were working outside their remit by trying to dictate how the NHS spends its money.
 
Previously, some medical experts had said they did not believe the scheme would work, or would only be of benefit to a limited number of patients at the extreme end of addiction.
 
The scheme could make a come-back, however, after council officials were asked to research further details.
 
It will be debated again once their background report has been completed.