Trump granted special status for land purchase
Donald Trump will be the only bidder for an area of ground surrounded by his Menie Estate in Aberdeenshire.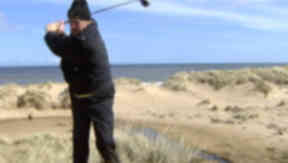 Councillors have granted Donald Trump special permission to bid exclusively for a key piece of land to complete his billion pound Aberdeenshire golf resort.
The half-acre former car park was set to become the subject of a bidding war after opponents attempting to block Mr Trump's plans vied to buy it from under his nose.
However on Tuesday councillors voted to afford the business tycoon "special purchaser" status which means he alone will be allowed to apply to purchase the ground.
Several rival bids had been made for the land - currently owned by Aberdeenshire Council and landlocked by Mr Trump's Menie Estate.
Opponents of Mr Trump's development had called for the land to be sold to the highest bidder on the open market.
However, those hopes were dashed on Tuesday afternoon after a meeting of the Formartine Area Committee confirmed Aberdeenshire Council was to enter negotiations with Trump International Golf Links Scotland over the sale of the land.
A statement from the authority said the Trump Organisation was to be considered a "special purchaser" due to the "local economic benefits expected to be generated" by the golf resort.
It continued: "The Trump Organisation currently has outline planning permission for developing the land as part of the wider golf resort development. The piece of ground is wholly surrounded by land currently owned by the organisation.
"Officers will now begin negotiations with the Trump Organisation concerning the sale of the land. As a result, none of the other bids will be progressed."
In a statement, Trump International – Scotland's Executive Vice President Sarah Malone congratulated the council for preventing a bidding war over "a tiny piece of land".
She said: "We are grateful to Aberdeenshire Council for awarding us status of special purchaser, which clearly recognises the scale, impact and importance of this project for the North-east of Scotland.
"It was inevitable that others would express an interest in buying the council land as a result of the Trump development, and this was an appropriate step taken by the Council to prevent an unnecessary bidding war over a tiny piece of land that lies within the heart of the golf development."
The Menie Estate development plans include two courses, a hotel, 500 houses and 950 holiday homes.
The proposal has attracted opposition from environmentalists and residents, with part of one course to be built within an area of sensitive sand dunes.