Children to begin work on Trump golf development
Youngsters from an Aberdeenshire Primary School to plant grass as part of an environmental education project.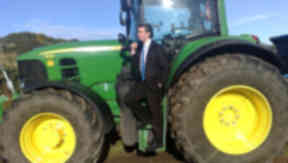 Children from a school near the site of Donald Trump's £1billion golf resort are to plant grass as part of the first stage of its construction.
Youngsters from Balmedie Primary School are to sew marram grass, which is used to stabilise sand dunes on the Menie Estate, on Thursday.
The initiative is part of an educational collaboration project between Aberdeenshire Council and Trump International.
The work started last October and represented the official start of work on the controversial development.
Protestors against the golf course took legal action against the council's decision to let work commence.
Molly Forbes – one of the residents refusing to sell their properties to Trump International – had her legal bid to have the work halted thrown out of court earlier this month.
Mrs Forbes may yet choose to continue her legal challenge through a judicial review of the planning decisions which gave the golf complex the go-ahead.
Speaking about Thursday's schools initiative, Sarah Malone, executive vice president of Trump International said: "Given that this development will one day provide employment and recreational opportunities for the next generation, this type of activity will help create a greater sense of ownership and interest amongst the young. 
"We look forward to working with Balmedie School on a range of activities throughout the development of the project."
Allison Conner, deputy head teacher, Balmedie Primary School said:  "The children are being taught to hand sprig the grass which is an age old tradition that crofters used to employ in days gone by.
"Pupils are being given the opportunity to better understand their heritage and at the same time engage in outdoor learning.  We have a rich learning environment on our doorstep, and we will continue to use our local outdoor environment to develop and enhance the learning opportunities we provide our pupils."
The coastal resort will consist of two golf courses, a hotel and around 1,000 holiday homes.