Controversial historical Irish slaughter re-examined
Academics at the University of Aberdeen are to analyse accounts of an an alleged massacre of Protestants in the 1600s.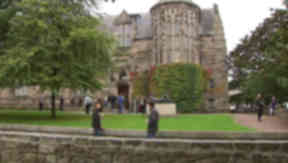 An attempt to resolve one of Irish history's most hotly disputed controversies is being tackled by Scottish academics it has been revealed.
University language experts have been given the go-ahead to use cutting-edge software technology to pore over thousands of witness accounts of an alleged massacre of Protestants centuries ago.
The so-called Depositions of English and Scottish settlers at the coal face of the 1641 Rising by Catholic rebels have been exploited by historians, politicians and propagandists through the years.
Now, researchers have been given a £334,000 grant to settle once and for all whether the death toll and notorious propaganda images of settlers being raped, mutilated and murdered were exaggerated.
Dr Barbara Fennell, senior language and linguistics lecturer at the University of Aberdeen, who will lead the project, said they expect to prove within a year whether witness statements were genuine or overstated by commissioners working for Oliver Cromwell.
"It is important to remember that these depositions are mediated by the commissioner who wrote them down so there is inevitably manipulation of the descriptions," she said.
"That's what we are investigating, and given that it was such a sensitive time, and given what Cromwell did later in exaggerating it all, I think we have a really interesting tool here to see if there has been that kind of manipulation."
Locked away in Trinity College Dublin (TCD) since 1741, the 20,000 pages of text were transcribed into digital format over the past two years.
The research team will use IBM technology, known as "dirty text" analysis software, to examine and cross-reference names, places, words and phrases carried in the 4,000 depositions.
Dr Fennell said the next stage of the project will allow them to profile persons alleged to have carried out certain atrocities and map where they were supposed to have happened.
The academics will then use "forensic linguistics" to test the reliability of the reports, based on the wording, phrases and the veracity of the commissioners who took it down.
"This will give us an insight into who allegedly did what to who, and then it will allow us to investigate the reliability of the evidence," said Dr Fennell.
The Protestant death toll in the alleged massacre has most recently been put at between 4,000 and 12,000.
But academics say the defining period of history was invented and reinvented by successive generations in response to contemporary developments and has never been satisfactorily resolved in Ireland, both North and South.
Jane Ohlmeyer, professor of modern history at TCD, said the new evidence will help drive the debate on one of the most formative and contested events in Irish history.
"This represents an important next step in the project and will allow Dr Fennell and her team to work with the historians and computer scientists based in Trinity and with technology experts from IBM Ireland to interrogate the Depositions in ways hitherto unimaginable," she said.