Is there life on Mars?
Maybe, say Scots scientists who have discovered that microbes in an arctic crater could have survived conditions four million years ago.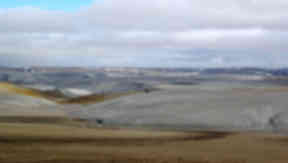 Scots scientists have moved a step closer to revealing whether or not there is life on Mars.
Researchers made the breakthrough after discovering the remains of organisms which survived while the earth was being bombarded by meteorites around four million years ago.
It was thought that primitive life could not have survived the hostile period known as "the heavy bombardment" immediately after the birth of the solar system.
But studies of a microbe thought to be amongst the earliest to inhabit Earth by the University of Aberdeen have revealed that life could have endured the conditions.
The samples, taken from a crater on an uninhabited island in the Canadian High Arctic could have survived temperatures close to boiling point. The tests also showed that the microbes were able to live deep underground in the darkness known as the 'deep biosphere'.
 
Professor John Parnell from the University of Aberdeen says the discovery could explain much about the evolution of life on Earth as well as Mars which is covered in craters similar to those found here.
He said: ""When the Earth was young, over four billion years ago, it was repeatedly hit by large meteorites which would have shocked and melted the planet's surface.
 
"Up until now scientists have imagined that primitive life would not have been able to withstand this pummelling.
 
"But our analysis of the mineral told us that this ancient microbe could have been able to survive meteorite bombardment through a combination of living underground and reinvading the surface rock while it was still very hot.
 
"Our findings add to a growing body of evidence that there is much life on our planet that lives deep below out of sight and that this is where early life on Earth may have started.
 
"Similar meteorite craters with similar minerals occur on Mars, and this work highlights an approach that could help us look for evidence of life there."
 
The research is due to be published in this month's *Geology *– the leading international publication from the Geological Society of America.