Scots brewery releases world's strongest and most expensive beer
Controversial BrewDog release 55% ABV 'The End of History' costing £500 a bottle.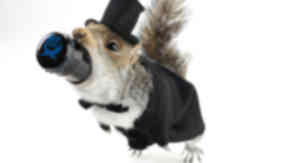 Controversial beer makers BrewDog have unveiled the world's strongest and most expensive beer.
The Fraserburgh brewery has unveiled their 55% ABV The End of History tipple priced at a staggering £500 a bottle.
Only 12 bottles of the blond Belgian ale have been created – with each one coming in a unique bizarre bottle made with stuffed animals dressed in eccentric outfits.
Company co-founder, James Watt commented: "In true BrewDog fashion we've torn up convention, blurred distinctions and pushed brewing and beer packaging to its absolute limits. This is the beer to end all beers. It's an audacious blend of eccentricity, artistry and rebellion; changing the general perception of beer one stuffed animal at a time."
BrewDog have been singled out for criticism from alcohol watchdogs in the past who accused them of promoting binge drinking. The firm, who support the Scottish Government's minimum price for alcohol policy, strongly dispute the allegations claiming their products are far more expensive than many other cut price drinks.
Each bottle of The End of History was handmade by a taxidermist using animals which died of natural causes.
Barbara O'Donnell, Director of Services for Alcohol Focus Scotland has labelled BrewDog's latest product a publicity stunt.
"This is another example of this company pushing the boundaries of acceptability all in the pursuit of cheap marketing tactics", she said.
Hundreds of litres of beer are required in the creation of the new ale – something the firm says justifies its high price tag.
IN DETAIL