Fishermen set up quayside blockade against foreign vessel
Action at Peterhead harbour taken as Faroese vessel tries to land 1,000 tonnes of mackerel.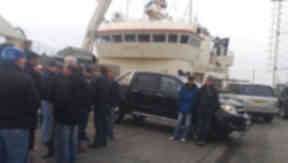 Dozens of fishermen have created a quayside blockade to stop a foreign vessel landing a haul of mackerel.
The workers at Peterhead are preventing the Faroese boat Jupiter from landing 1,000 tonnes of the fish as part of an escalating 'mackerel war'.
The argument centres on the decision by the Faeroe Islands and Iceland to catch around three times more than the EU deems reasonable.
Tuesday's action comes just weeks after a similar blockade was set up at the same Aberdeenshire harbour, again to block the Jupiter from landing around 900 tonnes of mackerel.
On that occasion the blockade was broken up after the local fishermen were given assurances that it would be the last time such a landing would be made there.
A large police presence is on site in Peterhead. Scottish Fishermen's Federation President Ian Gatt is meeting with the skippers to discuss the next step.
It is understood the Jupiter was due to land the catch with Peterhead fish processors Fresh Catch.
The EU could be set to introduce sanctions against the countries in a throw back to the cod wars of the 1970s. Possible action could see Faroese and Icelandic boats barred from landing any catches at EU ports.
Iceland insists its fishermen are permitted to catch any fish it wants within its 200-mile territorial limit.
Norway has already banned boats from the two countries from landing at any of its fish processing plants.
IN DETAIL