Trump touches down to receive degree
Donald Trump arrived in Aberdeen ahead of Friday's honour from the Robert Gordon University.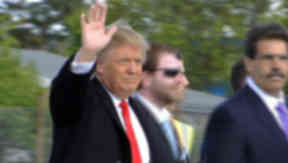 American Tycoon Donald Trump has jetted into Aberdeen ahead of receiving an honorary degree from the city's Robert Gordon University.
The Billionaire who flew in aboard his own private jet is building a £750m golf resort at the Menie Estate in Aberdeenshire.
The award of the degree, due to take place on Friday has sparked protests from the Tripping up Trump Action Group. The day the international businessman arrives, their campaign are stepping up the pressure on the Robert Gordon University's widely criticised decision to laud Trump as a hero by giving him the accolade. 
The threatened homeowner and Tripping Up Trump member Susan Munro will present a four day, 6,500 strong petition today at 3.00pm to RGU in front of the press. 
It asks that the university retract its controversial and irresponsible announcement to honour Trump on Friday. 
Susan Munro stated: "We are still living in constant fear of being thrown out from our homes because of Mr Trump's unreasonable and arrogant demands and for this reason we think it is completely inappropriate to give this man an honorary degree."
"Most people in the north-east and elsewhere can see Mr Trump's anti-social behaviour for what it is - the behaviour you would expect of a greedy bully. Why don't Sir Ian Wood and the university authorities feel the same disgust at Trump's methods as the rest of us do?"