Check mate: Lewis chessmen in Aberdeen
The Lewis chessmen have gone on display in Aberdeen as part of their tour of Scotland.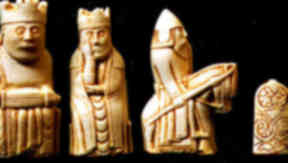 The collection of 12th Century ivory figurines are arguably the most significant archaeological find ever made in Scotland.
They were discovered on Lewis in 1831 and will go on display in Stornoway after a stop in Shetland next year.
'The Lewis Chessmen: Unmasked' is the most comprehensive exhibition on the Lewis chessmen featuring chessmen drawn from the collections of National Museums Scotland and the British Museum.
The touring exhibition looks at the mystery and intrigue surrounding the chessmen, explores the stories surrounding their discovery and shows how the characters reflected society at the time they were made.
It draws upon new research by National Museums Scotland on their craftsmanship, origins and historical context to provide visitors with a new and vibrant perspective.
Dr Gordon Rintoul, Director of the National Museums in Scotland said: "We are delighted to be touring the Lewis Chessmen to Aberdeen Art Gallery following a highly successful exhibition run in Edinburgh. These iconic objects have a special place in the public imagination, and we are pleased that our partnership with the British Museum has enabled this significant tour. We are grateful for support from the Scottish Government."
Neil MacGregor, Director of the British Museum said: "This tour provides a wonderful opportunity for these extraordinary objects, which are of European and worldwide significance, to be seen by audiences across Scotland.
"The British Museum has a long standing relationship with National Museums Scotland and is very pleased to continue this partnership, and we are grateful to the Scottish government for their support which has enabled the tour to become a reality."
The Lewis Chessmen were discovered on the western shore of the Isle of Lewis in 1831, as part of a hoard of walrus ivory. The hoard includes assembled pieces made of walrus ivory from at least four chess-sets, probably made in Norway in the late 12th or early 13th century.
As the largest and finest group of early chessmen to survive, they are one of the most significant archaeological discoveries ever made in Scotland and are of major international importance.
Few chessmen survive at all from the Middle Ages, and these are unparalleled in their high-quality, humour and intricacy of design. The majority of chess pieces were acquired by the British Museum in 1831, in order to preserve the hoard as intact as possible in a public collection.
They have been on permanent display ever since. Eleven pieces remained in Scotland and have been on display for many years - the last ten in a prime position in the National Museum of Scotland.