Billionaire Donald Trump wins right to claim legal costs from pensioner who lives in 'mobile home'
An 86-year-old is still liable for expenses, after she gave up her fight against Donald Trump's golf resort.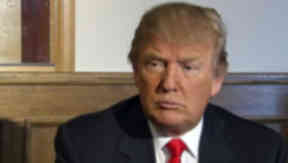 Billionaire Donald Trump has won the right to claim legal costs from pensioner who lives in a 'mobile home'.
86-year-old Molly Forbes has abandoned her legal bid against plans for the resort near Balmedie, Aberdeenshire.
But the Trump Organisation is still seeking expenses from the pensioner despite the fact her judicial review proceedings at the Court of Session have now been dropped. And now a judge has given her a further chance to seek to have the award reduced.
Lord Kinclaven said in a judgement issued at the Court of Session in Edinburgh that he was satisfied that both were entitled to an award of expenses.
He said: "On the information before me the appropriate course is to find the petitioner (Mrs Forbes) liable in expenses to date. There is no good reason for withholding that finding."
The judge said that the motions for an award by the local authority and golf developer were "irresistible".
But he said the court did not have to pass decree for immediate payment and he was prepared to allow Mrs Forbes an opportunity to make further submissions on modification of her liability for expenses.
Lord Kinclaven said at a further hearing in January a submission for Trump's lawyers seeking an additional fee could also be dealt with. He also dismissed her petition for judicial review following the move to abandon it.
In a statement, Trump International said: "It is regrettable that an elderly woman has been used to front this frivolous court action.
"There are consequences for filing a baseless claim and her son and lawyers should pay the expenses."
One senior lawyer said Mrs Forbes could have faced an expenses award against her of at least £50,000.
The pensioner took the legal challenge against decisions of the council to grant consents after Mr Trump sought to build a golf course and resort development at Balmedie.
A judge earlier rejected her bid to stop the planting of marram grass at sand dunes as part of the preliminary work at the site for what Mr Trump hailed as the "world's greatest" golf resort.
Andrew Smith QC for Mrs Forbes had asked Lord Kinclaven to put on hold the question of expenses in the case pending the outcome of a judicial review being brought against the Scottish legal Aid Board seeking to get her legal aid which had been refused.
He told the court: "Mrs Forbes couldn't afford to meet any award of expenses."
"If they wish an award of expenses and to enforce it is their intention to sequestrate Mrs Forbes and ultimately to have her property adjudicated upon and sold," he asked.
Eugene Crealley, for Aberdeenshire council, said in seeking expenses: "The priniciple must follow that the cost of litigation should fall on him or her who has caused it."
"The question of whether such an award will ultimately be enforced, so far as the council is concerned, is another matter," said the counsel.
Roy Martin QC, for the Trump organisation, had argued that if the motion to abandon was going to be granted then the judge should deal with the question of expenses now.
Mr Smith said that Mrs Forbes, of Balmedie, lived in a very small house, which was technically a mobile home. "She moved there some six years to be near her son with the intention of living out the rest of her life in that area."