Firefighters called to blaze at derelict Aberdeen sports centre
Fires tackled at Stoneywood Mill centre and former Bankhead Academy.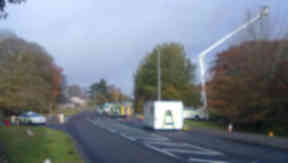 Firefighters tackled major blazes at a derelict sports centre and mill in Aberdeen on Bonfire Night.
Officers from Grampian Fire and Rescue Service worked for more than three-and-a-half hours to tackle a fire at the derelict Stoneywood Mill sports centre and social club.
The nearby Stoneywood Road was shut while 20 fire crew fought the blaze in the early hours of Saturday morning.
Meanwhile, two more units were called to tackle a number of fires at the site of the former Bankhead Academy, on Bankhead Avenue in Aberdeen.
Fire chiefs are refusing to rule out a link between the two blazes, in the north of the city.
Neither building is in use and it is understood that nobody was injured.
Overall, officers said, the number of bonfires in the Grampian area fell by 22%, to 66.
Group manager Ally Birkett, the service's head of risk reduction, said: "Once again the public have listened to our safety messages and this has enabled us to improve the safety of all our communities during the bonfire and firework safety campaign.
"Although we still received calls to bonfires it was reassuring that there was once again a significant drop in the number of incidents attended. We will continue to work to reduce this figure over the coming years."
A joint investigation is now under way into the cause of the fires.