Alex Salmond backs RAF Lossiemouth and Leuchars at Westminster
Future of RAF Leuchars and Lossiemouth has been discussed with Defence Secretary.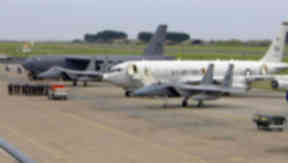 First Minister Alex Salmond has met Defence Secretary Liam Fox to set out the convincing case for Scotland to retain both RAF Leuchars and RAF Lossiemouth.
The impact of the UK Government's Strategic Defence and Security Review (SDSR) on Scotland's defence footprint was discussed in detail at the talks in London.
The Review has already effectively signalled the closure of RAF Kinloss in Moray due to the cancellation of the Nimrod contract. Media speculation in recent months has also suggested that RAF Leuchars in Fife is facing an uncertain future, while the prospects for RAF Lossiemouth in Moray also hang in the balance.
Speaking after meeting with Mr Fox, the First Minister said: "The people of Moray and Fife have been pleading with the MoD and UK Government for clarity on this issue for months but to no avail.
"I share their concerns about how the process is being handled, especially as Scotland has already suffered due to the cancellation of the Nimrod contract which was a hammer blow for the people of Moray.
"While the Scottish Government has taken decisive action - announcing financial support to help cope with the fall-out of the UK Government's decision and co-ordinating the campaign to protect RAF Leuchars and RAF Lossiemouth from closure - the response from London to date has been very disappointing.
"There is strong evidence to suggest that the uncertainty and speculation surrounding Scotland's bases is already starting to have a negative impact on the local economies. Of course tough decisions are unavoidable in the challenging financial climate, but they must be proportionate and fair.
"The UK Government needs to wake up to the fact that there are far-reaching consequences for Moray and Fife at stake. Following the lack of transitional support for those employed at RAF Kinloss, we need assurances that a substantial increase to the UK Rapid Response Fund will be forthcoming.
"Although initially it appeared that Moray would bear the brunt of the impact of the SDSR, there are clearly implications for the rest of Scotland, with media speculation suggesting RAF Leuchars in Fife could potentially be in the firing line.
"We are continuing to work closely with Fife Council and other key partners to support the campaign to save RAF Leuchars. Scotland has already suffered a major blow and made a significant sacrifice through RAF Kinloss; the people who rely on our surviving bases will not accept any further setbacks."