Fireman 'suspicious' of car crash that killed wife of murder-accused
Malcolm Webster denies murdering his first wife by crashing her car and setting it on fire in Aberdeenshire in 1994.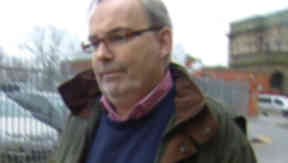 A former fireman told a murder trial he was "extremely suspicious" of a car crash in which a nurse burned to death.
Derek McDonald was giving evidence at the trial of Malcolm Webster, who denies murdering his first wife Claire by drugging her with Temazepam, crashing his car on the Auchenhuive to Tarves Road, Kingoodie, Aberdeenshire on May 27 or 28 1994, and setting it on fire.
Mr McDonald, 61, who was a sub-officer based at Aberdeen in 199, told the High Court in Glasgow that he had gone to the crash scene with cutting equipment, but was stood down and told to stand-by.
He told prosecutor Derek Ogg QC that as he had nothing to do he examined the area around the crash site looking for skid marks or debris and found nothing. Mr McDonald also examined the car and found minimal damage.
He was then asked by Mr Ogg: "Did you hear the driver escaped unscathed" He replied: "Yes."
Mr Ogg said: "Putting these thing together the driver escaping unscathed, and the car did not have much damage did you come to any conclusion?"
McDonald replied: "Definitely I was extremely suspicious."
He told Mr Ogg that he was not interviewed by any police officers about the crash in 1994.
Earlier retained fireman, Ian Reid, told the jury that he had been part of a crew sent from Inverurie fire station to help their colleagues from Oldmeldrum. Mr Reid said that he saw 51-year-old Webster at the scene.
He was asked by Mr Ogg if there was anything about Webster's demeanour he remembered and he replied: "I said I couldn't understand how someone was so cool if he had just lost his wife in a car crash. He was pretty calm."
Mr Reid asked if he had any concerns and replied: "Yes, I still think why didn't the person who was there not pull the person out the vehicle."
Counselling
Retired police officer Kevin Martin, 51, who now works as a security company manager, told the court that some of the retained fire fighters who helped with the removal of 32-year-old Claire's body from the burned out car asked for counselling because this was the first time they had ever encountered such an incident.
The jury has heard that the blaze was so intense that it was impossible to tell if the body was that of a man or a woman.
Earlier in evidence James Mitchell, 55, a retired police officer with 22 years experience, told the jury he was surprised that Webster's Diahatsu Sportrak had remained upright after the crash.
He said: "The only thing that really struck me if vehicles go off the road they don't usually stay upright - unless they are Jaguars or at that time Granadas. If it was a smaller car, like a Jeep they often ended up upside down or on their sides."
Webster also denies trying to kill his second Felicity Drumm in Auckland, New Zealand, in 1999 to cash in on their life insurance.
He is also alleged to have formed a fraudulent scheme between 2004 and 2008 to enter into a bigamous marriage with lover Simone Banerjee to get access to her estate.
Webster denies all the charges. The trial before judge Lord Bannatyne continues.