Moray is 'ideal' location for spaceport, says expert
An enterprise forum has been launched to promote the region as a centre of excellence in space tourism and exploration.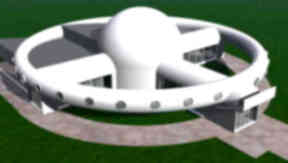 Moray is an "ideal" location for a spaceport, a leading space expert has told local business leaders.
Moray born Professor George Fraser, Director of the University of Leicester's Space Research Centre, told delegates at a conference in Elgin that space tourism was likely to be a growth industry, and a catalyst for economic development.
The industry is worth around £7bn to the UK economy, and growing, according to Prof Fraser who was attending the launch of a new enterprise forum - Science, Space and Stars - to promote the region's potential as a centre of excellence in space tourism and exploration.
He said: "It's a very large and growing market and there is no reason why Moray cannot play its part as a centre of excellence in space science and exploration, and as a base for science tourism."
He pointed to the success of the National Space Centre in Leicester, which has attracted more than two million visitors since it opened in 2001.
A similar concept has been unveiled for Moray. The Space Wheel concept, the brainchild of Munlochy based project consultant Maarten de Vries could include a permanent exhibition, business and educational facilities, a space flight simulator and a planetarium.
Prof Fraser said Moray was an ideal base from which to launch polar orbiting satellites, and as a potential location for a spaceport, because of its geography, its skilled workforce and existing infrastructure.
Lossiemouth has previously been identified as a possible site for a revolutionary new civilian space port, with Richard Branson's Virgin Galactic just one of several players seeking to exploit the potential of space tourism.
Howie Firth, chair of the new forum, said: "We have seen elsewhere that there are major economic benefits associated with space research and we believe these benefits can be applied to Moray.
"The region has the right ingredients, including the natural environment, the skills and talent, and the physical infrastructure. It is clear that the opportunities are there."
Lesley Ann Parker, Chief Executive of Moray Chamber of Commerce, added: "The Moray economy is facing serious challenges. However, there is no shortage of creative thinking in Moray, and there is a strong commitment to diversify our economy into new, emerging markets."