Text-a-Squirrel scheme aims to engage locals
An innovative project to gather information on wildlife populations has been launched in Aberdeen.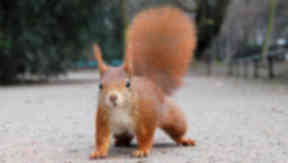 **A fresh appeal to mobile phone users visiting or living in Aberdeen has been launched as part of a bid to help wildlife experts get a better picture of the population size and distribution of red and grey squirrels. **
This is the second time 'Text-a-Squirrel' has been run in the area, urging city dwellers or visitors to report when and where they see squirrels in the city by sending a text message from their mobile phone.
Last autumn Saving Scotland's Red Squirrels, a partnership project including Scottish Wildlife Trust, Scottish Natural Heritage and Forestry Commission Scotland, launched the pilot scheme, thought to be the first of its kind in the UK, and project staff were thrilled with the local response.
Hollie Walker, the North East Scotland Project Officer for Saving Scotland's Red Squirrels, said: "Last October, we received 154 squirrel sighting reports. This information helped us to get a picture of where red and grey squirrels are found in Aberdeen.
"Last time, we were surprised by reports that some people were even seeing red squirrels right in the heart of Aberdeen city. Now we would like to see how they have fared over the exceptionally hard winter.
Members of the public spotting a red or grey squirrel in Aberdeen between Friday 11 and Friday 25 March are being urged to report their sighting by texting the word RED or GREY, followed by where it was spotted - which could simply be a postcode, park name, street name or six-figure OS grid reference, followed by their name - to 88802.