Major energy firm pulls out of North Sea following tax hike
Norwegian firm Statoil has stopped investment in North Sea oil following the recent tax announcements in the Budget.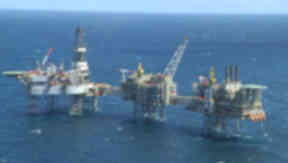 Energy giant Statoil has halted work on a North Sea development following Chancellor George Osborne's decision to increase tax on the industry.
The Norwegian firm said it will "pause and reflect" on the future of its Mariner and Bressay fields to the south east of Shetland.
The comments were made as oil and gas industry leaders called an emergency meeting following the tax increase. Mr Osborne has defended his decision to impose the £2bn charge, designed to fund a 1p per litre drop in fuel duty.
Scottish Secretary Michael Moore, a Liberal Democrat MP, has also backed the policy, saying it is the "right and fair thing to do".
Statoil said it had been due to start production at Mariner in 2016/17, with work expected at Bressay later. Estimated reserves for the two fields were put at 640 million barrels of oil. The company has said it intended to operate the fields from Aberdeen.
Statoil spokesman Bard Glad Pedersen said: "The proposed tax change has significant impact on the project economics of Mariner.
"We have to pause and reflect to evaluate what impact this will have and consider how to proceed after this. This is a project about to be developed. With this tax increase, there is a substantial impact."
Industry body Oil & Gas UK has warned that the tax decision could jeopardise thousands of jobs. Following a meeting of operator member companies in Aberdeen, it called an emergency meeting.
Malcolm Webb, Oil & Gas UK chief executive, said: "Oil & Gas UK's member companies agreed that the unexpected tax hike announced by the Chancellor in last week's Budget looks to have been constructed hurriedly without rigorous analysis of its implications and has damaged investors' confidence in the UK as a stable destination for their capital.
"The move has made companies rethink their plans to step up investment in the next few years, jeopardising tens of thousands of jobs as well as indigenous oil and gas production, which will likely lead to an increase in the import of these fuels.
"The lost trust will take a very long time to rebuild."
IN DETAIL: