Murder accused Malcolm Webster complained over police force co-operation
51-year-old wrote letter of complaint after Grampian Police detectives shared information about him with officers in New Zealand.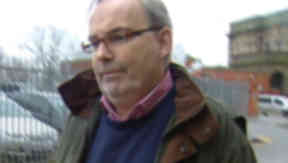 **The Malcolm Webster trial has heard how he wrote a letter of complaint to Grampian Police after information about him was shared between detectives in Aberdeen and New Zealand. **
Detective William Clark from Grampian police told the court that in the year 2000 he received a letter from Malcolm Webster complaining that information passed from the Aberdeen force to their New Zealand counterparts was a breach of his confidentiality.
In the letter, Webster wrote: "I have no criminal record and frankly find it ridiculous to suggest I might have committed a crime."
The Detective also told jurors of a visit to an Ann Hancock in England, who was having a relationship with Webster at the time.
Detective Clark described how he could see her world fall apart as she read a warning letter he had delivered to her.
The High Court in Glasgow also heard evidence from two former friends of the 51-year-old who knew him at the time of his first wife's death.
Mr and Mrs Mackie recalled how Webster used to describe his first wife, Claire Morris, as his little friend.
Refering to episodes where she would frequently nap during the day, Webster told Jillian Mackie, ''You know how sleepy my little friend gets.''
Mrs Mackie also testified that Webster's second wife, Felicity Drumm, would often be asleep when she and her husband visited the couple.
Webster is accused of drugging both Claire Morris and Felicity Drumm and defrauding them of hundreds of thousands of pounds. He denies all the charges against him, including faking a car crash in which Claire Morris was killed in 1994.
IN DETAIL: