Arise Prince Willy: Scots brewery launches Viagra-laced beer for royal wedding
BrewDog has claimed it is not launching the tongue-in-cheek royal wedding beer 'because some toffs are getting married'.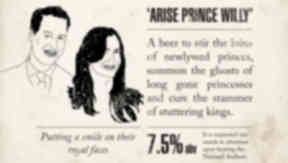 A north east brewery has unveiled a limited-edition beer laced with Viagra and a healthy dose of sarcasm to commemorate the royal wedding.
Brewed using aphrodisiacs, the limited edition artisanal beer will only be available to buy from the company's website on the day of the wedding between Prince William and Kate Middleton.
Fraserburgh-based BrewDog, which has a penchant for launching headline-grabbing tipples, has brewed the Royal Virility Performance.
The 7.5% ABV Indian Pale Ale contains Viagra, chocolate and Horny Goat Weed
Many breweries around the United Kingdom have produced special edition beers to mark the occasion.
BrewDog founders revealed that the inspiration behind their latest beer was the number of alcoholic drinks already launched to mark the wedding, which takes place on Friday, April 29.
James Watt, co-founder of the independent brewery, said: "With this beer we want to take the wheels off the royal wedding bandwagon being jumped on by dozens of breweries.
"The Royal Virility Performance is the perfect antidote to all the hype.
"A beer should be brewed with a purpose, not just because some toffs are getting married, so we created something at our brewery that will undermine those special edition beers and other assorted seaside tat, while at the same time actually giving the happy couple something extra on their big day."
The ale will cost £10 per bottle, with all proceeds going to the homelessness charity Centrepoint, which Prince William supports.
Just 40 bottles of the beer will be sold on BrewDog.com and the brewery has sent a complimentary bottle to Prince William himself.