£120,000 Robert the Bruce statue unveiled outside college
The King Robert the Bruce statue was uncovered outside Marischal College in the Granite City.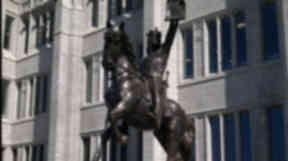 A sculpture of King Robert the Bruce has been unveiled outside Marischal College in Aberdeen.
Lord Charles Bruce and Master Benedict Bruce, direct descendants of King Robert, were accompanied by the Lord Provost Peter Stephen to witness the plinth being uncovered.
The direct descendants also hailed the SNP's landslide election victory as "a long time coming" during the ceremony.
Lord Bruce made the comments after unveiling a huge statue to his freedom fighter ancestor in Aberdeen.
The city's local authority spent £120,000 on the tribute, which was funded by the Common Good Fund.
It took four years to construct by sculptor Alan Beattie Herriot, with the ceremony coming just days after the Scottish Parliament election.
A civic procession made its way from the Town House to the Marischal College. Lord Bruce carried the Sword of Bruce and Master Bruce presented the Banner of Chief of the Bruce family whilst a bagpiper played Scotland the Brave.
Marischal College is due to open as the new headquarters of Aberdeen City Council this summer.
The Lord Provost said: "It is an enormous pleasure to be here, with the backdrop of this majestic building, for the ceremonial unveiling of our tribute to the man who gave Aberdeen its freedom, one of Scotland's greatest heroes - King Robert the Bruce.
"This sculpture is the culmination of years of hard work by Mr Herriot and the result is a truly iconic piece which will be cherished by generations of Aberdonians and admired by thousands upon thousands of visitors to our city."
Mr Herriot said: "Seeing the sculpture in place is amazing. I hope that the people of Aberdeen like what has been done.
"I rather think King Robert would be very proud."
The tribute had previously been called "kitsch" by Liberal Democrat councillor Martin Greig, who complained that the statue was simply a "vanity project".