Mother guilty of murdering her baby was 'like Hannibal Lecter'
Ineta Dzinguviene, 26, was found guilty of murdering her baby Fraserburgh and is being investigated over a similar crime in Lithuania.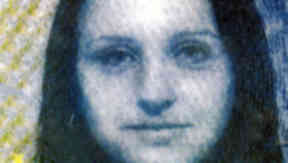 A Lithuanian mother has been branded "like Hannibal Lecter" by friends who knew her.
Ineta Dzinguviene was found guilty of murdering her newborn baby son and discarding his body at a flat in Fraserburgh. She suffocated him with cling film before hiding his body in a bag behind a roll of carpet in a common stair.
Dzinguviene, 26, has been described as "like Hannibal Lecter" by her friend of eight years Egle Liutaite.
She confronted her the next day, saying she knew she had been pregnant and wanted to know what she had done with the baby.
Speaking to STV News, Egle said: "She always denied pregnancy, even although it was beyond dispute.
"If you don't know her well then you like her, but once you get to know her then you realise she is telling lies all the time.
"I thought she was pregnant and I was asking her about the baby. She just said she was ill and laughed it off."
Egle added: "As far as I'm aware she did the same thing back home in Lithuania. She gave birth and initially it appeared that she loved that baby. When she came back home she did exactly the same thing.
"She put a plastic bag over its head and left the baby in a suitcase in the loft.
"Sometimes I think she is like Hannibal Lecter. She did something really terrible and you can't understand it. I think she is in her own world and in her own thoughts. She's not normal."
It has since emerged that Lithuanian police are investigating Dzinguviene for similar crimes in her home country.
She allegedly gave birth to a baby girl in 2009 and the newborn was never seen again. 
After Dzinguviene had left for Scotland, it alleged a workman found a baby's corpse in a suitcase.
Forensic experts in Lithuania believe the baby had been suffocated to death.
Officials from the prosecutor's department in Vilkaviskis - the town where she lived - began a preliminary investigation, treating the case as murder.
During an 11-day trial at the High Court in Livingston, the jury of eight women and seven men, took just over an hour to find Dzinguviene guilty.
Dzinguviene will be sentenced next month.
IN DETAIL: