Final disbandment for RAF Kinloss
The three flying squadrons at RAF Kinloss are being officially disbanded in a ceremony attended by the Duke of Edinburgh.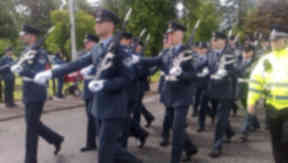 A disbandment parade is taking place at RAF Kinloss, following the decision to close the airbase in the UK's defence cuts which were announced last October.
The three flying squadrons at the Moray airbase are being officially disbanded in a ceremony on Thursday.
The three squadrons are Number 42 (Reserve) Squadron, CXX Squadron and 201 (Guernsey's Own) Squadron. They will parade in front of the station's honorary air commodore, the Duke of Edinburgh.
RAF Kinloss was stripped of its main operational role by the decision to scrap the Nimrod reconnaissance fleet.
The Ministry of Defence says the base remains a defence asset and could be used for troops being withdrawn from Germany. The airfield at Kinloss will cease to operate by August 1.
Meanwhile, defence secretary Liam Fox is visiting RAF Lossiemouth but not RAF Kinloss, which is just 15 miles away.
Local SNP MP Angus Robertson asked why the defence secretary would not attend the Kinloss disbandment ceremonies, saying "the service community deserves better" and that he "isn't showing any respect."
Dave Stewart, who is part of the Moray taskforce branded Liam Fox's decision to visit Lossiemouth and not Kinloss as "insensitive".
Liam Fox is also visiting RAF Leuchars – another base which has been the subject of continued speculation about its future as a result of the defence spending review.
RAF Leuchars has been visited by the Scottish secretary Michael Moore and minster for the armed forces Nick Harvey recently and despite the speculation, the Ministry of Defence has repeatedly said that no decision about its future has been made yet.
IN DETAIL: