Blind woman refused guide dog in ambulance
Blind cancer victim Susanne McCafferty is 'disgusted' after ambulance staff forced her to make a hospital trip without her guide dog.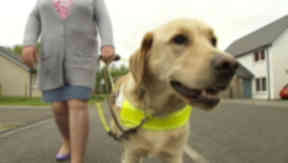 A blind woman was forced to leave her guide dog at home when an ambulance arrived to take her to hospital for cancer treatment.
Susanne McCafferty had expected to take her guide dog Garner with her to Aberdeen Royal Infirmary. But the paramedics refused to allow her lifeline labrador onto the emergency vehicle.
They said her dog would need a special harness which could be bolted to the floor, in order to be seemed safe to accompany her.
Mrs McCafferty, a retired nurse from Peterhead, then spent six hours in ARI alone without her dog. She could not even get a cup of coffee or a sandwich as she was unable to move without her dog.
She said: "After I was feeling particularly unwell my doctor asked me to go and see a surgeon. My GP organised patient transport for me and my guide dog Garner to get to ARI.
"On the day of the appointment Garner and I were all ready to go; when the ambulance crew told me I wasn't allowed my dog on the vehicle. They then made such a fuss about it.
"The told me that they could take me but that they were in no way taking Garner. Obviously I got upset because Garner is my eyes and I asked them to get in contact with control but they still refused.
"I'm disgusted. Garner is my eyes. For me to go anywhere he is my safety. I can't go anywhere without him. There are stairs at ARI and I was worried about bumping into people. I was so vulnerable. I felt badly treated."
In 2009, Mrs McCafferty was registered blind, having lost the sight in both eyes due to diabetes. She is currently insulin dependant. In 2010 she was diagnosed with cardoma, a very rare spinal cancer, which is terminal.She said: "It's difficult for me to get around because of the pain but if I want to go out he'll take me out.
'My rock'
"Garner is good company, he won't leave my side, and he's just my rock. He has made my life completely different. Many a time I want to die and if it wasn't for Garner I'd go downhill."
A spokesman for the Scottish ambulance Service said: "We will be writing to the patient concerned to apologise for any inconvenience caused and assure her that the appropriate steps have now been taken to make sure that this does not happen again and that her guide dog can accompany her in future."
Mrs McCafferty added: "An apology is no good. I'm not only with dealing with being blind but I have terminal cancer. It's so important for me to have my dog. I feel like I've been discriminated."