Baby murderer was a 'practising witch who was drugging her husband' to conceal her pregnancy
Dead baby's grandmother reveals double life of Ineta Dzinguviene, who murdered her newborn son in Fraserburgh.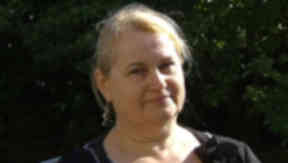 The mother sentenced to life for murdering her baby son was a witch who practised 'black magic' and drugged her husband, the child's grandmother has told STV News.
Vida Dzinguviene said her daughter-in-law Ineta - who was sentenced to life on Thursday for the killing of baby Paulius in Fraserburgh - was living a double life.
In an exclusive interview with STV News, Vida Dzinguviene said: "Ineta was my daughter in law. It was the second marriage for my son. She made my son divorce. My first impression was that she was a good girl. She seemed to be calm and peaceful.
"But I was wrong.
"I would even think she was involved in some black magic practice. When she left for Scotland, I was tidying their house (in Lithuania), and by accident, I came across a huge number of burned candles.
"I became anxious seeing such a huge number of candles. I asked my grandchildren what it was all about. 'Why are there so many candles in the house?' They told me their mother lit all the candles, walked around the room and spoke in a strange language like witchcraft.
"I found some books and magazines on black magic practices."
The 26-year-old will serve at least 15 years for suffocating hours old Paulius and attempting to hide his body. She was sentenced at the High Court in Glasgow on Thursday.
Meanwhile, police in Lithuania are investigating her over the death of a second baby there.
Vida Dzinguviene said, when finding out about the murder and the possible murder back in Lithuania, she was shocked: "It's awful. When I heard about it, I was so confused I was disorientated. I was walking along the street and not sure where I was going."
During the trial, fish factory van driver Arunas Dzingus, 28, said his wife Ineta Dzinguviene denied being pregnant.
His mother said: "We had some suspicions that she was pregnant. My son suggested she was pregnant. But when Ineta's pregnant, she just looks like she's getting fat."
'Drugging'
"I think she did something to make him believe her. In Lithuania, I discovered she was secretly giving him tranquilisers.
"I found a huge number of pills in my house. It was medication that you can only get from doctors, by prescription. I found three different types of tablets. And once, I and my daughter saw my son, and he was in a strange condition.
"He was complaining that he always wanted to sleep, and he was glassy-eyed. Only later when I discovered that medication, I realised what it was all about. He would say that she used to prepare their meals, their evening meals, separately. She would make his and then hers."
Ineta Dzinguviene, 26, appeared for sentence at the High Court in Glasgow on Thursday. She was given a life sentence with a minimum of 15 years behind bars. Meanwhile, Lithuanian authorities have sent a European arrest warrant to Scotland over a separate alleged murder.
IN DETAIL