Teacher wins tribunal after being 'locked in cupboard by a colleague' at private school
Fiona Michie revealed how her department head locked her in a cupboard and bullied her at exclusive Robert Gordon's College in Aberdeen.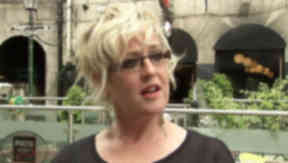 A teacher who claimed her boss locked her in a cupboard at an exclusive private school has won an employment tribunal.
Fiona Michie said she was bullied and threatened by her department head while working at Robert Gordon's College in Aberdeen.
The art teacher said: "It started within months of my employment at Robert Gordon's College, which is some ten years ago.
"It started as verbal aggression, and it got to the point where I was being locked behind a closed door, up to an hour and a half, an hour and three quarters at a time."
Ms Michie claimed she was forced to resign in early 2009 when nothing was done after she was locked in a storeroom.
She told the tribunal it was head of department Andrew Hopps who locked her in a store cupboard and shouted at her.
In November 2009, he sent her this apology, which tribunal judges described as "half hearted".
Ms Michie said: "It's brought me to the depths of despair, the hurt, and the damage it's done to my family.
"It's just been awful, for months. It's been difficult to go out, to socialise, and to speak to people. It's something you don't like talking about, but it really put me in a dark place.
"I hope nobody else has to go through anything like what I have had to go through."
The tribunal report says school head teacher Hugh Ouston failed to carry out proper disciplinary procedures, trying "to smooth the matter over with a minimum of fuss".
The College issued the following statement: "The case before the tribunal related to a single allegation made by Mrs Michie in August 2009 regarding the manner in which her line manager spoke to her. The tribunal did not take a view as to the truth or otherwise of this allegation.
"The judgement relates solely to procedural matters regarding how her complaint was dealt with."
 
"The College acted in good faith throughout as it sought to carry out its duty of care to all staff.  The College took into account the interests of all parties concerned and endeavoured to find a satisfactory outcome."
There will now be a remedy hearing to decide compensation for Ms Michie.