Stone Age figure unearthed on Orkney
The 3cm figure – dubbed Brodgar Boy – could have been an ornament or child's toy, archaeologists have said.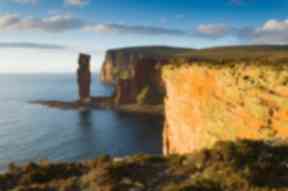 **Archaeologists have unearthed a tiny Stone Age figurine in a dig site on Orkney. **
The 5000-year-old figure, dubbed the Brodgar Boy, was found during excavations at the Ness of Brodgar excavations in Stenness.
The fairly crude clay figure, which is only 3cm high, consists of a head, body and two eyes.
Archaeologists said the artefact is likely to have once been part of a larger object, due to a break mark on the bottom. It is the third figurine found on the Scottish isles.
Scotland's earliest representation of a human, the Orkney Venus - or the Westray Wife, as she's known in Orkney - was unearthed in the summer of 2009 in the remains of a former Neolithic farmhouse.
The year after, a second figurine turned up during excavations at the Links of Noltland.
The Brodgar Boy was found in the rubble of one of the two newly discovered structures at the excavation site.
Nick Card, Ness of Brodgar site director, said: "It is practically impossible to say what it was for. It would be easy to suggest the Brodgar figurine represented something ceremonial, ritualistic or religious. But it might also have been used as a toy, or just something to decorate the house.
"Given the area of the site in which it was found-- one of the last buildings constructed on the Ness - I don't think it's of any obvious significance.
"Maybe, if it had been found in Structure Ten, the massive cathedral-like building, we'd be thinking differently, but it turned up in what would appear to be a not particularly significant deposit.
"In addition, it's not a beautifully carved piece of craftsmanship. It's probably been part of another object at one time, which, when it broke, the fragment was perhaps then reworked into this little figurine.
"But it is still a very rare find and definitely one of the highlights of this excavation. Whether significant or not, it's still a beautiful little find, an interesting little curio that, in amongst all the massive structures and monumental architecture on the Ness, gives us a more personal glimpse of the people who once frequented this area of the Heart of Neolithic Orkney."