Aberdeen University opens new library
£57m building opens its doors at Aberdeen University.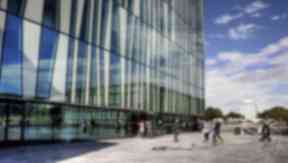 The University of Aberdeen's new £57m library has opened its doors to students and the public.
Construction on the building, which will replace the Queen Mother Library, began in 2009.
The new building will house collections of historically significant books and archives.
It is designed to provide a 21st-century learning and research environment for students.
Principal Ian Diamond said: "Our students will be able to access a wider range of our collections, one of the most significant historical collections in Scotland.
"Our students will be able to access, through electronic means, all the collections that exist all over the world, and the bottom line is it will make the very best students want to come to Aberdeen so as to study here in this incredible environment."