Union Terrace Gardens plans unveiled to the public
Designs for Aberdeen's controversial City Gardens Project plans go on display to the public for the first time.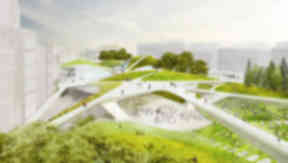 Designs showing how the proposed transformation of Aberdeen's Union Terrace Gardens could look are being unveiled to the public for the first time.
Six finalists have been chosen to compete for the £140m City Garden Project.
The teams are showcasing their proposals in an exhibition open to the public for two weeks.
They have been tasked with creating innovative designs for how the Victorian gardens may look if they are raised.
Designers have been instructed to include gardens, a cultural area and both outdoor and indoor space for a variety of activities.
Malcolm Reading, who runs the consultancy overseeing the design competition, said: "We are now at the really exciting stage of seeing the potential for Aberdeen for the first time since this project was announced.
"The calibres of the design teams and their passion for this project, which they believe can transform Aberdeen city centre, have inspired everyone involved.
"The overwhelming response and quality of submissions have surpassed our expectations and underlined the opportunity that the project presents as a catalyst to regenerate the city centre.
"I am looking forward to receiving the final tender submission, designs and accompanying models which will demonstrate how the city can be transformed in a way that blends its existing heritage with the new and the contemporary to create a 21st century city fit to compete with the very best."
The exhibition will be open at Unit 10 of The Academy on Belmont Street from Thursday, October 19 until November 2.
People visiting the display will be asked to choose their favourite design, and their preferences will be given to the final jury.
Sir Ian Wood, whose £50m donation towards the regeneration of the city centre sparked the project, said: "It has been a long process getting to this stage of the project but I am looking forward to seeing the designs.
"I am convinced they will inspire the people of Aberdeen and put to rest once and for all the myth that this will be a flat concrete square.
"My aspiration remains the same: to deliver a transformational scheme that will regenerate the heart of the city I love and see Union Street brought back to its former glory.
"These designs will provide a mix of gardens, leisure and cultural facilities that will make us the envy of other cities and enable us to become a world energy city that is capable of providing jobs and prosperity long after North Sea oil has run dry."