Donald Trump's golf course completed in Aberdeenshire
More than 1000 people have signed up to play at the Balmedie golf course when it opens in July 2012.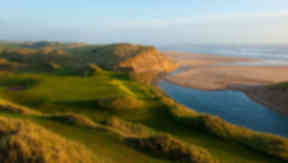 Donald Trump's £1bn golf course in Aberdeenshire has been completed after 16 months of work.
More than 1000 people have already signed up to play on the course at Menie Estate, Balmedie.
The championship links are expected to welcome the first players in July next year.
Mr Trump has already claimed the golf course will be the greatest in the world and is vying for some of the sports biggest tournaments to be held there.
Sarah Malone, executive vice-president of Trump International Scotland, said: "Bookings have been very steady and we are speaking to a lot of international tour operators.
"We are being inundated with requests for gift receipts from people who are buying for Christmas.
"It has been a real mix of people from across the northeast, the UK, Europe and further afield."
Around 500 acres of land has been used to create the 7400-yard course.
Aberdeen golfer Richie Ramsay, who became the first Briton in nearly a century to win the US Amateur Championship in 2006, said he was convinced the European Tour would head to Menie before long.
He said: "The course the Scottish Open will go to in the future is the new Trump course as it's just unbelievable."