Offshore holiday claim rejected by Supreme Court
Offshore unions consider industrial action after judges reject a claim for holiday entitlement.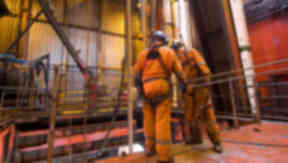 A long-running legal battle to get more holiday time for offshore workers has been rejected by Supreme Court judges in London.
For eight years, oil unions have been fighting for paid leave for workers who spend two weeks on platforms before having a two week rest.
They say current practice breaches the European Working Time Directive.
Industry bosses say workers already receive all holidays entitled to them during the time they spend at home.
The claim was rejected by judges at the Supreme Court on Wednesday morning.
Jake Molloy, of the RMT Union, said industrial action could not be ruled out after the legal result.
He said: "These workers work the equivalent of of 42 hours per week for 52 weeks of the year.
"That doesn't include helicopter travel, training onshore, overtime, or the time they spent in their beds offshore which is six months a year.
"Now if they want to go to war on this, they've come to the right place."
Sean Saluja, of Paull & Williamsons, representing the employers, said the firm was "delighted" with the judgement.
He said: "This has been a long awaited decision and with the Supreme Court also ruling that the matter should not be referred to Europe, it has finally come to a conclusion.
"As a matter of law, employers in the offshore sector can now insist that annual leave is taken during normal field break/rotational work patterns, a decision that will be welcomed by many in the industry.
"We have been working on behalf of a number of employers for a long period of time having commenced this journey in 2007 and we are delighted to have this successful outcome."
Malcolm Webb, Oil & Gas UK chief executive, said: "Typical rotas worked offshore allow for over 26 weeks onshore, away from work, more than meeting the requirement of the working time directive to provide 5.6 weeks' annual leave."
A  spokesman for drilling company Transocean said: "We are glad the court has resolved this matter."