Rare sighting of humpback whale off Shetland
Crowds gathered to see the 50ft whale as it swam 200m from the shore.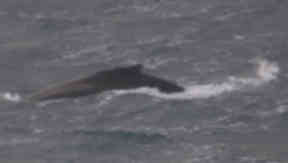 Crowds gathered to catch a rare glimpse of a humpback whale spotted off the coast of Shetland.
The 50ft whale could be seen swimming within 200m of the shore of Shetland's south coast on Monday afternoon.
The giant mammal was spotted by ornithologist Martin Heubeck on his way to work at Sumburgh Head and a crowd quickly gathered to see it swimming around West Voe.
Humpback whales are a rare sight off Shetland. The last to be spotted, in September 2010, became trapped in creel ropes, freeing itself just as a major operation was being organised.
Photographer Hugh Harrop was one of the first on the scene to see the "enormous animal".
He said: "It was the biggest humpback I have ever seen, I would say in excess of 50ft.
"It was awesome to see it swimming through the huge swell and it gave you a really good idea of the environment they have to exist in. For me it was an early Christmas present.
"Whether it was feeding or whether it was lost we don't know, but at its closest it was about 200 metres offshore. There is a wee bit of concern about it stranding, but I have seen humpbacks really close to reefs in Canada."
SEE ALSO