Sanctions threat over mackerel overfishing dispute
Scottish fishermen are being warned they could lose certification if an international agreement is not reached.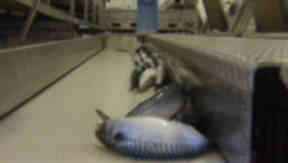 Mackerel fishermen in Scotland are being warned they could lose their certified licences because of overfishing problems in other countries.
The Marine Stewardship Council has made the threat to tackle a "significant increase" in the amount of mackerel being caught by fishing fleets it does not certify.
Talks are ongoing over concerns that the Faroe Islands and Iceland are overfishing, after they set their own limits for how much mackerel they could catch.
The MSC set a deadline of December 31, 2011 for countries to agree on a management regime. The deadline passed without agreement.
If countries, including the UK and Ireland, cannot reach an agreement by the end of March, the MSC will suspend their certification.
This means any mackerel caught after March 30 cannot be labelled "MSC certified".
Countries which face losing certification include the UK, Ireland, Norway, Denmark and Sweden.
Nicolas Guichoux, MSC Europe director, said: "It may be that people will consider it unfair that the certified fisheries should have their certificates suspended for the actions of third parties.
"However, even though this will be painful for the certified fleets, it is essential that the overall productivity of the mackerel fishery is maintained in order for the certified fleets to regain their MSC certified status.
"The certified mackerel fisheries have worked hard on negotiations to achieve this and I am confident that they will not rest until a solution is found."
IN DETAIL