£3.5m investment brings traditional oat-making into the modern age
A Banff oat company is using a large wind turbine on its site to power its production.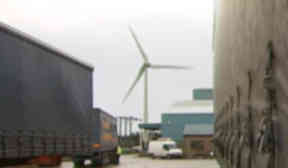 Wind is once again providing power for milling grain, as a unique modern-day windmill goes into production in Aberdeenshire.
A £3.5m investment in green energy production will provide all the power needed for Hamlyns of Scotland oatmill near Banff.
The age-old process of producing oats using wind and water is being brought into the modern age with the construction of the new wind turbine.
Alan Meikle, of Hamlyns of Scotland, said: "As a producer of oats we use a huge amount of electricity in our operation and because of that then the wind turbine is going to provide us with all the electricity we need going forward."
Parent company Mornflake say the plant is ideally located for a green revolution.
James Lea, of Mornflake, said: "We've had a number of projects on the go, this is the biggest to-date.
"The wind turbine outside produces three to four times more energy than this mill needs to operate so it's an entirely green manufacturing plant and we can even export what we don't use to other local homes and companies."