New village with 1000 homes planned at former airbase
The £250m proposal for a new community could create up to 1000 jobs in Aberdeenshire.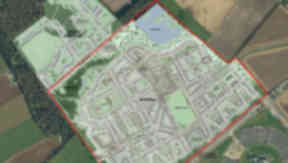 Plans to create a new 1000-home village in Aberdeenshire at a former airbase have been unveiled.
The £250m development, by Carnegie Base Services, would be built at RAF Edzell airbase on the border between Aberdeenshire and Angus.
The proposed community, already titled Newesk, would include a new primary school, community hall and local shops and could create up to 1000 construction jobs.
Carnegie Base Services owns the former airbase, which has operated as a commercial site since 2000.
The airbase itself would hold the business parts of the new community, while the housing is to be built on 144-acres of land between the base and the communities of Edzell and Edzell Woods.
The proposal for the new community has been submitted to Aberdeenshire Council after a year in the planning.
David Carnegie, a partner in Carnegie Base Services, said: "Newesk has the potential to bring much-needed employment throughout the construction phase, which would bring up to 1000 jobs, and provide up to 1000 high quality properties in a region which is one of the most sought-after destinations to live in the UK.
"There has been a serious shortfall of development land throughout both Aberdeenshire and Angus in the last decade, with demand in both local authority areas far outstripping supply, something which we can in part address with development of Newesk.
"Putting forward this formal planning application is a major step forward for us and we now look forward to seeing further support for the development of Newesk from planning officials and the community, who greeted the proposal so enthusiastically at the outset."
IN DETAIL