High levels of radon gas detected in Orkney homes
The naturally occurring gas is thought to lead to more than 1000 lung cancer deaths in the UK every year.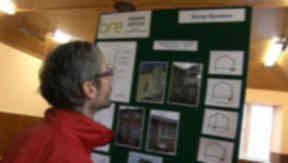 **High levels of radon gas have been found in some homes in Orkney. **
Residents are being advised on how to deal with the gas, which can cause health problems.
Naturally occurring radon gas cannot be seen, smelt or tasted and is thought to lead to more than 1000 deaths from lung cancer in the UK every year.
Radon is a particular problem in Orkney which has rocks rich in radioactive uranium, a source of the gas.
A recent test by the Health Protection Agency (HSA) found that hundreds of homes in the islands have radon levels well above the recommended amount.
Experts from the HSA and the Building Research Establishment have been running a series of roadshows in Orkney to give advice to local people.
Dr Martyn Green, of the HSA, said: "They should be worried, but not unduly so, because there are some really quite simple and effective ways to reduce the radon in the house.
"It does mean spending a little bit of money but it's not huge amounts in terms of normal house alterations."