Iconic Moray lighthouse to be switched off after 170 years
The Covesea Skerries lighthouse was built after 16 vessels were lost in a violent storm in 1826.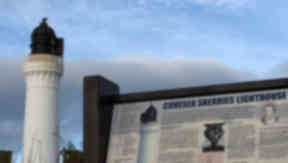 An iconic Moray lighthouse is being switched off almost 170 years after it was built.
The light of Covesea Skerries lighthouse near Lossiemouth has warned mariners of dangerous rocks for decades.
The lighthouse was built in response to public demand after 16 vessels were lost in a violent storm off Lossiemouth in 1826.
Twenty-six years ago it became an automated lighthouse, and now it's beam will be switched off forever.
Captain Phillip Day, of the Northern Lighthouse Board, said: "Every five years or so the board reviews all of it's navigation aids around the coast to make sure they're necessary and fit for purpose.
"What we've found with Covesea Skerries was that the long range light wasn't being used by mariners. We have Tarbet Ness on the other coast which provides the similar coverage and by utilising that this light really is redundant for long ranges."
Lighthouse keeper Douglas Gilchrist said: "Well it's a moment in time, it's been here for nearly 170 years doing a sterling job but things move on.
"The sea traffic's not sufficent to keep it going. It's done it's job perfectly and now it's time to have a happy retirement."