Internet 'troll' apologises for offensive picture of schoolgirl shooting victim
Sean Duffy posted an offensive image of 16-year-old Sophie Taylor who died in a double fatal gun accident.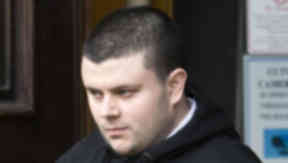 A convicted internet "troll" who posted an offensive picture of a schoolgirl shooting victim on a tribute site has made a public apology.
Sophie Taylor, 16, was killed when her 18-year-old trainee gamekeeper boyfriend Calum Murray accidentally pulled the trigger of a gun in the kitchen of his cottage in Tomintoul.
Mr Murray then turned the gun on himself following the tragic incident in April last year.
Within days of the deaths, Sean Duffy uploaded a disturbing picture of Miss Taylor, depicting her with gunshot injuries, onto a webpage set up for people to leave tributes to the teenagers.
When the victim's friends left messages voicing their disgust at the image, Duffy replied: "Ha ha. You can remove this as much as you want, I will just repost it."
The 26-year-old, from Reading, made a public apology when he appeared at Aberdeen Sheriff Court on Friday.
Defence agent Neil McRobert told the court that Duffy, who has Asperger's Syndrome, was "devastated, ashamed and upset" by what he had done.
He said: "I am further instructed to make a public apology to all those who have been affected by his actions."
Duffy had previously admitted causing fear and alarm by behaving in a threatening or abusive manner.
The picture that he posted, from a property on Western Road, Inverurie, showed blood running from the schoolgirl's mouth.
Fiscal depute Lynzi Wallace said Miss Wallace's aunt was left "cold, shocked and angry" when she found the image while she read tributes to her niece.
Sheriff Scott Pattison sentenced Duffy to 300 hours of unpaid work, as part of a two-year community payback order.
He also banned him from accessing any social networking sites, buying computer equipment or downloading software.
He said: "This is extremely concerning behaviour and I can only imagine the stress and trauma caused by these posts."
Duffy was released from prison in November last year after he admitted posting offensive messages relating to a suicide victim schoolgirl in September.
The term "trolling" is used to describe the trend of anonymously seeking to provoke outrage by posting insults and abuse online.
Aberdeen procurator fiscalm, Andrew Richardson, said: "The cruel and callous actions of Sean Duffy added to what was already a very distressing and traumatic time for people trying to come to terms with the loss of a loved one.
"Online behaviour such as this is deplorable and unacceptable. As prosecutors we will take a rigorous and firm approach to any such vile offences ensuring criminals like Sean Duffy are prosecuted."
IN DETAIL