Celebrity chef challenges fisheries minister over discards
Hugh Fearnley-Whittinstall demanded answers outside the European Fisheries Council HQ.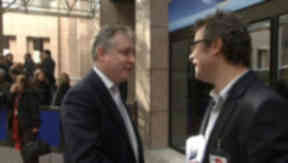 Scotland's fisheries minister has been challenged by celebrity campaigner Hugh Fearnley-Whittingstall to outlaw the practice of throwing dead fish back into the sea.
The famously outspoken chef protested outside the European Fisheries Council headquarters in Brussels on Monday as part of his call for a ban on discarding fish.
Current EU regulations mean that once fishermen reach their quota limit or accidentally catch any species that they are not licensed to fish, they must throw the excess stock back into the sea.
It is estimated that £1bn worth of fish could be discarded in this way over the next decade.
Fisheries minister Richard Lochhead said he wanted to see action on the issue, but imposing a 'blanket ban' without the agreement of other nations was not the answer.
Mr Lochhead said he had had 'several thousand tweets in the last 48 hours'.
Asked if he was 'on the side of the tweeters', Mr Lochhead replied: 'Of course we are.'
He continued: 'As you know I've always said we can't have a ban without a plan.
'We want other people to follow Scotland's example. We need the catch quotas, we need to concentrate on what we take out of the sea and not just what we land ashore.
'We need changes to the Common Fisheries Policy (CFP) regulations that cause the discards. That's why we need reform of the CFP as quickly as possible.
'It's a very complex situation with the mixed fishing we have in the North Sea. We've got to do it species by species.
'Just standing up and saying "today we impose a blanket ban" won't take us any further forward.
'I would love to see radical action by 2016 and as quickly as possible thereafter for right across all the species.'