Serial rapist in 'human rights breach' claim
Chan Wright was convicted of raping and violently beating three women over 15 years.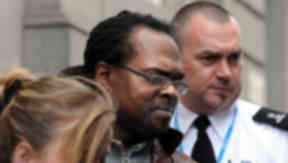 A man who was convicted of raping and violently beating three women has claimed an order protecting the public from him could breach his human rights.
Chan Wright continued to attack women after winning a court battle to keep him in the country.
The 40-year-old was convicted of serious sexual and physical violence against three women in Aberdeenshire, Angus, Edinburgh and West Lothian over a 15-year period.
He was due to be sentenced at the High Court in Perth on Thursday but sentence was deferred because of legal arguments.
The Jamaican national claimed that a Lifelong Restriction Order (LRO), reserved for high-risk violent and sexual offenders, could breach his human rights.
Under such an order, the offender would only be released from prison when they are deemed not to be a risk to public safety.
Defence advocate, David Burns QC, argued that Wright committed the crimes before LROs were introduced into Scottish law, in 2006. Imposing an LRO in those circumstances may breach the Human Rights Convention, the lawyer argued.
Wright also lodged a formal note of objection to parts of the risk assessment carried out by social workers for Thursday's hearing.
The judge, Lord Kinclaven, deferred sentence until April 23 to consider the issues raised at the hearing.
Wright was due to be deported to Jamaica after he was convicted of rape and drug trafficking in 1997 but he challenged the order.
He had been jailed for four years for raping a 19-year-old girl and also being involved in the supply of a class-A drug.
Three judges at the Court of Session overturned the deportation order, saying there was no evidence that Wright would reoffend.
He was originally given leave to stay in Britain for six months but was later granted the right to stay indefinitely after marrying.
Wright was convicted of a string of rapes and physical attacks following a trial at the High Court in Aberdeen last year.
He had denied the charges, claiming that any sex was consensual.
IN DETAIL