Trust launched to preserve historic buses
FirstGroup hopes to preserve vehicles dating back through the company's history.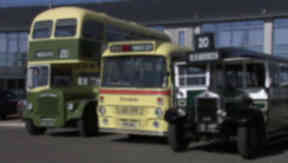 The UK's largest bus operator has launched a new scheme to preserve some of its most historic vehicles.
The FirstGroup Heritage Trust has already restored four buses from operations in Aberdeen, which date back to the 1930s.
It is hoped that the trust will gradually take ownership of a whole range of buses from First's operations across the UK.
Officially launching the trust on Thursday, FirstGroup put three historic buses on display - a 1930 Albion, a 1965 Daimler and a 1975 Leyland Leopard.
Joe Mackie, First Aberdeen's commercial director, said: "It's important we protect and preserve our heritage vehicles.
"In Aberdeen, for example, our 1930s 'Albion' bus has a rich and varied history. To condemn it to the scrapheap or consider selling it would be a great loss.
"In setting up the trust, vehicles with historical significance such as the Albion are protected. There are a number of buses throughout our operations in the UK that we will take ownership of and subsequently restore and preserve them."
George Law, a First bus driver for 43 years, said: "The buses nowadays are smoother and far easier to handle, much more comfortable for passengers too, but there is a special place in my heart for the Daimler. I'm pleased that First has taken steps to preserve these historic buses."