Trump warns wind farms could be 'suicide' for Scottish economy
The US tycoon claims there is 'not a shred of evidence' wind turbines benefit the environment.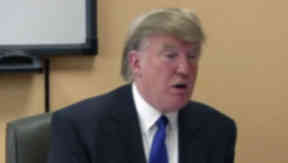 US tycoon Donald Trump has warned that wind farms could "completely end" tourism in Scotland and the country is "in effect committing financial suicide".
Mr Trump said he would not have built his golf course in the north-east of Scotland if he had known about plans to install turbines off the coast there.
He also claimed there was "not a shred of evidence" that the devices benefit the environment, claiming their construction used "massive amounts of fossil fuels".
Mr Trump, a vocal opponent of wind farms, launched his latest attack in a written submission to Holyrood's Economy, Energy and Tourism Committee.
He is due to appear before MSPs next week as the committee considers how achievable the Scottish Government's renewable energy targets for 2020 are. Tickets to the public gallery are being released on Wednesday, ahead of his appearance on April 25.
In his submission to MSPs, Mr Trump, chairman and chief executive officer of the Trump Organisation, argued that tourists will not travel to Scotland to "look at ugly turbines".
He said that when faced with "these industrial monstrosities" on the countryside and coastline, visitors will "hate it and go elsewhere".
The American businessman urged the committee to "recognise the serious situation and to advise the Scottish Government not to destroy Scotland with these horrendous, costly and highly inefficient industrial turbines".
He told them: "Your pristine countryside and coastlines will forever be destroyed and Scotland will go broke."
Mr Trump argued that a "wind farm landscape" would "completely end tourism in Scotland".
He claimed: "Scotland is, in effect, committing financial suicide."
Mr Trump has halted work on his Menie Estate golf resort until a decision on the application for an 11-turbine wind farm off the nearby Aberdeen Bay, is made later this year.
Renewables Inquiry
The governmental committee has already spent the last three months gathering evidence from a range of sources, including energy experts, planners and education providers.
Murdo Fraser, committee convener, said: "Onshore wind power has dominated most of the 157 written submissions to the inquiry.
"It also attracts the most media attention. But dig deeper and it becomes apparent that there are wider issues across the spectrum of renewable energy generation that need to be addressed.
"We have heard from witnesses about concerns about the planning system and the risk it poses to the achievability of the targets. It took, for example, over a decade to consent the arguably critical piece of grid infrastructure, the new Beauly to Denny transmission line."
Green MSP Patrick Harvie said Mr Trump's "latest rant shows how weak his grasp on reality is".
Mr Harvie, a member of the Economy, Energy and Tourism Committee at the Scottish Parliament, said: "Mr Trump's appearance next week will no doubt create a circus atmosphere and Trump has clearly chosen to play the clown.
"His behaviour does himself and the anti-wind lobby he is funding no favours."
The Green MSP added: "Scotland has great renewable energy potential as more shrewd businesspeople can see.
"Instead of embracing that potential, Mr Trump has ripped up a unique and sensitive swathe of our coastline and now throws a hissy fit because he's not getting his own way."
Tickets for the public gallery are available from visitor services from Wednesday, from sp.bookings@scottish.parliament.uk or 0131 3485200.
IN DETAIL