Oil industry and trade unions join forces over EU regulation fears
Bodies voicing alarm over European proposals to regulate offshore oil and gas safety.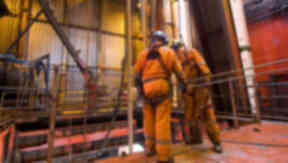 The oil and gas industry has joined forces with trade unions to voice fears over proposed EU regulations.
Oil & Gas UK and the RMT and Unite trade unions say they are "alarmed" over proposals to regulate offshore oil and gas safety.
The industry and workforce say the proposed regulations would have a "serious detrimental impact" on standards of safety and environmental protection on the UK continental shelf.
Malcolm Webb, Oil & Gas UK chief executive, said: "The safety of the workforce is the UK oil and gas industry's top priority.
"When considering how this would be affected by the proposed EU regulation, exactly the same conclusion is reached by oil and gas companies and trade unions representing the workforce alike.
"We fear that far from adding any tangible benefit to the UK's world class system, moving overall responsibility for offshore safety to the EU, which has absolutely no experience or competence in the area, would undermine our high standards of offshore safety and environmental protection."
The regulations would require the rewriting of significant parts of existing legislation and would mean 300 UK safety cases would have to be resubmitted to the Health and Safety Executive, industry experts say.
They claim the regulation proposals "fails to acknowledge the importance of the workforce and safety representatives offshore and their role in regulatory compliance".
Jake Molloy, RMT regional organiser, said: "We see workforce involvement as a fundamental part of improving all-round safety performance in the offshore industry and this is increasingly being recognised by operators and contractors.
"Significant improvements in this vital area have been made with a great deal more still to come but all the good work currently underway could be jeopardised with the application of the EU regulation."
The call comes weeks after an offshore platform near Aberdeen was evacuated following a gas leak.
More than 200 personnel were removed from the Total-operated Elgin platform after the gas leak, from a rock formation under the platform. Efforts are under way to stem the leak.
IN DETAIL