Pilot describes lucky escape in Tayside golf course crash
Vince Hagedorn plunged his light aircraft into trees on a Dundee golf course.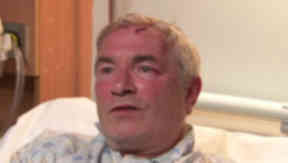 The pilot of a light aircraft which crashed onto a golf course in Dundee has told STV News about his lucky escape.
Vince Hagedorn from Chelmsford got into difficulty while flying over the city around 4.50pm on Wednesday.
He managed to steer his two-seater plane away from built up areas and crash landed into some trees on the 15th hole of the Caird Park Golf Course.
Mr Hagedorn had been flying from Barrow in Furness to Kinross when he got into difficulty over Dundee. He was unable to land at Dundee airport and chose a golf course to avoid hitting houses.
Taking inspiration from the fictional World War One pilot Biggles, he decided to make a pancake landing - an emergency maneuver where the airplane drops flat onto the ground, or in this case the trees, from a low altitude.
Mr Hagedorn said: "I just stalled into the tree. So instead of going straight into the trees, and having things sliced off by going through all the big tree trunks I actually banged into it (onto the side) which meant my seat effectively was taking the weight off the impact,  so I wasn't thrown through the windscreen which I certainly would have been because I was doing 70 knots just before impact.
"I wasn't scared, not in the slightest. I'm very lucky because you can't tell what is going to happen when you hit a tree."
The plane was wedged in branches high above the ground and firefighters placed a 44ft ladder against the trees. Mr Hagedorn managed to climb down the ladder to safety with only a cut on his head.
He was taken to Ninewells Hospital following the crash. Nobody else was injured in the incident.
Caird Park Golf Course is in extensive parkland on the outskirts of Dundee, around two miles from the city centre. Golfers praised the pilot for preventing the plane from coming down on a nearby housing estate and roads.
Greg Martin said: "It's incredibly lucky. The pilot has not just saved his own life but avoided a catastrophe. It is a miracle he is alive. He must have been pretty capable at handling that aeroplane.
"The pilot must have seen what was ahead and kept away from the built-up areas. He deserves credit."
Pat Walmsley, from Tayside Fire and Rescue, commented: "We are amazed at where the plane had landed in trees and where it was stuck - equally amazed that the guy was able to speak to us from 50ft up in that tree to indicate to us that he was relatively uninjured and conscious and well."
The Air Accident Investigation Branch has launched an investigation