Tributes paid to Black Watch soldier at funeral
Service hears how Private Kevin Elliott had handed in his kit at his barracks - before turning back because he 'didn't want to miss the boys'.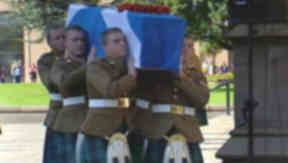 Hundreds of mourners gathered on Tuesday for the funeral of a British soldier killed while on foot patrol in Afghanistan.
A full military service marked the life of 24-year-old Private Kevin Elliott, of the Black Watch, who died on duty in Helmand Province on August 31.
The soldier from Dundee was targeted in a rocket propelled grenade attack while patrolling Babaji District with Sergeant Stuart Millar, 40, from Inverness, who was also killed.
Friends and family of Pte Elliott wore Black Watch tartan ribbons with the words "Kevin Elliott - Our Hero" while Army colleagues turned out in full regimental dress.
He had previously served in Iraq and Northern Ireland and had joined the army in 2002.
Tributes at the 40-minute service at St Mary's Church in Dundee were led by the soldier's father, Sandy, who said the day he learned of his son's death was the saddest of his life.
He spoke of his pride in his son who he said would do anything for his friends and family.
He told mourners: "Kevin was a grandson, a brother, a nephew, an uncle and a cousin, but more than anything he was our son. And although some things he did annoyed us, I can't remember being anything but proud of him.
"The saddest day of our lives was hearing he had died - something no parent wants to hear. But for 24 years Kevin brought joy to our lives."
Black Watch welfare officer Captain Lorne Campbell said Pte Elliott had been like a brother to his "second family" within the regiment.
He told around 400 people gathered at the church: "We will not forget the sacrifice, giving his life, protecting his friends, representing his regiment and his country, and so that the people of Afghanistan might have a better future."
Pte Elliott, who previously served in Iraq and Northern Ireland, had been set to leave the Army earlier this year but was tempted back to serve in Afghanistan at the 11th hour.
In March he had returned his kit and was about to walk out of the Fort George barracks in Inverness when he decided to turn back.
When asked why, he replied: "I didn't want to miss the boys", the service heard.
The soldier was killed while defending his colleagues when they came under attack from insurgents in the volatile area they were patrolling
One mourner told STV News: "It's sad, tragic.  He was a good pal of mine.  He will be sadly missed.
"He stayed round the corner from me - he was the life and soul of the party and without Kevin it wasn't anything.  I'm just gutted."
Another added: "It is absolutely terrible.  He was such a young boy.
"I am sad that it has come to this.  He loved being out there and he lived for the army and was in it from a young age."
The service, a full military funeral with firing party, is currently being held at St Marys Church in Dundee.
Meanwhile, the funeral of Sergeant Stuart Millar will be held on September 17 in Inverness.