Labour pledges 20,000 jobs for Scots
Future Jobs Fund is vital for employment, claims Scottish party's leader.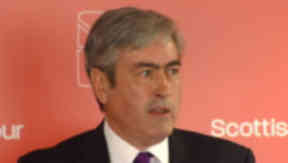 Scottish Labour's leader Iain Gray said today that the party will get 20,000 unemployed youngsters back into work.
Mr Gray said the Future Jobs Fund, which has secured 10,000 jobs for Scots in the last year, was vital in boosting employment among the young.
He also claimed that Conservative opposition to the fund showed they were not "on the side of Scottish families".
Mr Gray said: "The Future Jobs Fund has created 10,000 jobs in Scotland in the last year. Labour set up the fund to help deal with the recession and get people back into work.
"The Tories voted against it. They opposed every single one of those jobs."
Mr Gray, on a visit to a training scheme in Dundee, pledged that Labour would create another 20,000 jobs from the same fund to boost employment in Scotland.
Claiming that the Conservatives haven't learned the lessons of the 1980s, he said: "The risk of the Tories does not come from what they did 15 years ago. It comes from what they do now.
"In the Scottish Parliament they vote against measures that would create jobs.
"They cannot pretend to be on the side of Scottish families when they constantly oppose things that would help families. This is 20,000 more reasons why Scotland should not vote for a Tory government."
The £1billion Future Jobs Fund was set up last year to create jobs for young people who are out of work.
It aims to create 150,000 jobs across the UK, two-thirds of which are aimed at 18-24 year olds who have been unemployed for nearly a year.