Freed Gaza activists arrive back in Scotland
UPDATED VIDEO: Ali El-Awaisi and Theresa McDermott were among those captured on aid ships heading for Gaza.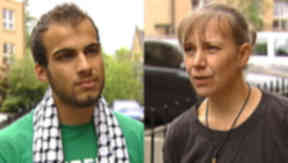 Ali El-Awaisi and Theresa McDermott speak to STV News's Gordon Chree.
An activist who was captured when the flotilla he was on was raided by Israeli troops while heading for Gaza has said it was "amazing to be home" as he arrived back in Scotland.
Speaking on Sunday afternoon, Ali El-Awaisi spoke of the treatment he had suffered at the hands of Israel's forces, both during and after their raid.
Nine pro-Palestinian activists died after Israeli forces stopped the Turkish aid vessel Mavi Marmara Gaza in international waters 80 miles off the coast of Gaza early last Monday.
Mr El-Awaisi told STV News of the moment the boat he was on was raided. "We'd heard rumours that they might come and board the ship but we didn't actually believe it, because we were 74 miles away from Israeli land. We were in international waters. They were pirates. They massacred the whole ship," he said.
"We got attacked in the early hours of the morning. It was all dark. There was no advance warning - nothing.
"All we heard was bombs getting thrown on our boat and they were shooting live rounds from the helicopter. They were using live rounds straight away. They were throwing flashback, smoke and gas bombs. We were in shock."
The 21-year-old, from Dundee, said that while he was pleased to be back, there was still more work to be done.
"It feels amazing to be back home with my family and the people I love - it feels really good," he said. "But at the same time we've not finished our mission. Our mission was to go down and to break the siege of Gaza - it's been under siege for four years.
"So while it's good to be back with the people I love, I've not achieved the mission that I set out to do."
Mr El-Awaisi described his treatment at the hands of Israeli forces as "unbelievable".
"They tied our hands, they elbowed us in the face," he added. "They didn't care if you were a woman, an old man, a child - they still did it."
IN DETAIL
He was one of 40 British activists taken into Israeli custody.
On Saturday, another ship - captained by an Orkney man - was intercepted and boarded by Israeli forces, although it is understood that nobody was killed or injured in that operation.
Another activist who returned on Sunday was Theresa McDermott, from Edinburgh. She was also deported after her boat was raided.
"They didn't hit me. I was shoved over, but when I was trying to stop them beating my friend, a guy cocked a gun at my head and said, 'sit down or I'll shoot you'," she said.
"It was all happening too fast to be frightened at the time. Later, when we were leaving the airport, we were being pushed around, they were trying to get a reaction out of us."
The activists said they were purely on a relief mission, carrying 10,000 tonnes of aid to the troubled region, including £30,000 of goods from Dundee.
But Israel insists its forces retaliated against an attack by those on board the aid flotilla, who it says were armed with weapons including knives and guns.