Dundee Rep is Scotland's leading theatre - official
The Rep win again at the Critics Awards for Theatre in Scotland, making it the most consistently successful theatre in the country.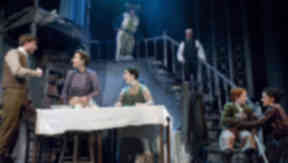 Dundee Rep won three of the ten awards at the annual Critics Awards for Theatre in Scotland on Sunday, bringing its total haul to 15 awards in the eight years of the CATS existence and making  it the most successful theatre in Scotland.
The Rep won all three of its awards this year for its production of The Elephant Man, the tragic but true story of John Merrick. Merrick was a horribly deformed man in the Victorian era who was exhibited as a freak until he was rescued by an ambitious young doctor. The show won the Best Actor category, sponsored by the Guy Robertson Partnership  (Kevin Lennon who played John Merrick), Best Design for its recreation  of a Victorian hospital and best director for the Rep's new associate director Jemima Levick.
Dundee Rep, which receives just under £1.4m in public funding from the Scottish Arts Council and Dundee City Council is the only theatre in Scotland  with a permanent repertory company of actors. 
James Brining, the Rep's artistic director, explained the theatre's success in terms of investment. "The heart of the theatre is the actors", he said. "It's about investing time in people's creativity and energy and its about the actors investing in where they live and work. They can't just run away after eight weeks.
"We are also very fortunate that there is a fantastic relationship, simply in the architecture, between the stage and the auditorium which is aprtly why we have done so well in the Design section over the years.
Designer Alex Lowde also won last year as best designer  for a production for Beauty and the Beast , also at Dundee Rep. The Rep has won the Best Design category four years in a row and five times altogether. 
The Rep narrowly lost out to the Edinburgh Traverse on Best Overall production this year but it has won the top award twice, a feat no other theatre has achieved so far. 
The awards were presented in a ceremony at the Festival theatre in Edinburgh on Sunday with funny girl Karen Dunbar and Edinburgh Festival director Jonathan Mills as guest presenters.
Robert Dawson Scott, the founder of the CATS, said: "Dundee has gone from one of the less fashionable ends of Scottish theatre to being an absolute must-see destination. I look forward to every night in the theatre, but anticipation on the way to Dundee is especially high these days."
For full results and further information on the awards go to the CATS website.