Prehistoric standing stone falls over
The thaw has caused the distinctive 4000-year-old standing stone near Kirriemuir to topple over.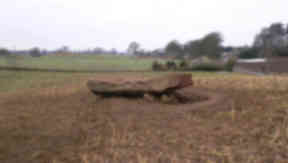 A 4000-year-old standing stone in Angus has fallen over due to severe winter weather.
The Carlinwell stone at Airlie, near Kirriemuir, toppled over as the snow, ice and frost from the long cold spell melted away.
The 7ft prehistoric unsculptured standing stone is situated on the crest of a knoll on a farm. Human remains were found underneath the scheduled monument at the end of the 18th century. It is one of a number of standing stones across the country.
Historic Scotland is now looking to carry out an investigative dig of the site, before reinstating the stone.
A spokeswoman said: "Carlinwell standing stone is a scheduled monument near Airlie, Angus.
"The stone fell over a couple of weeks ago when this winter's heavy frost finally thawed. We were contacted by the landowner and had a meeting with him on Friday.
"Fortunately the stone was not damaged in any way and the owner has cordoned the stone off to protect it from grazing stock.
"Prehistoric standing stones such as this commonly have relatively shallow footings and two thousand years of soil erosion can result in instability. We will be investigating options for reinstating the stone.
"Historic Scotland is hoping to arrange for archaeological excavation around the base of the standing stone followed by its re-instatement."