'My son was murdered': Father of Scots soldier who died in Portugal calls for police investigation
Serving Black Watch soldier Darren Lackie died in mysterious circumstances while on holiday with his girlfriend.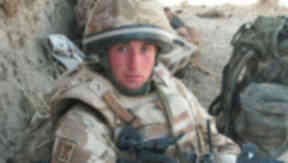 A grieving father says he will not rest until a murder inquiry is launched into the death of his soldier son while on holiday in Portugal.
Serving Black Watch soldier Darren Lackie, 21, from Cupar in Fife, died in mysterious circumstances while on holiday in the Algarve.
His father Graham thinks he was murdered after his drink was spiked and wants the British authorities to persuade the Portuguese to investigate the death fully.
Mr Lackie died on April 3 in Faro hospital after an incident in a holiday resort he was visiting with his girlfriend Ashleigh Wilson.
He was taken to hospital after being found unconscious on a restaurant terrace in the Albufeira resort, having sustained head injuries.
This came after he had taken Ashleigh back to their apartment after she felt unwell before he was later found unconscious.
Initially, Portuguese authorities claimed the death was due to him falling over having been drinking.
But the fact that his son's mobile phone and money were missing when his body was found, as well as traces of depressants barbiturates were present in his system when he died, raised postman Graham Lackie's suspicions about the death.
In his first television interview since returning to the UK, Mr Lackie told STV News: "They have taken his stuff and basically they have just left him to die in the street.
"I honestly think he was murdered. Well I would say a mugging gone wrong, and that's murder."
Mr Lackie claimed that the Portuguese police have failed to keep him informed of the status of the inquiry so far, dismissing the investigation so far as "absolute rubbish" and a "joke".
The toxicology report carried out during the post-mortem investigation into Lance Corporal Lackie indicated drink was not a factor in his death.
Mr Lackie added: "If the police could have convinced me that Darren fell I would have to accept that.
"But the fact they haven't talked to me and they won't answer my questions leads me to believe that they're covering something up and I want justice for my boy basically."
It is understood an official investigation is under way into the soldier's death, but due to Portuguese secrecy laws surrounding the judicial process, it is not yet known whether it is of a criminal nature.
The former Bell Baxter High School pupil's body has been flown back to Scotland.
He will be laid to rest during a full military funeral at St John's Church in his home town on Friday.